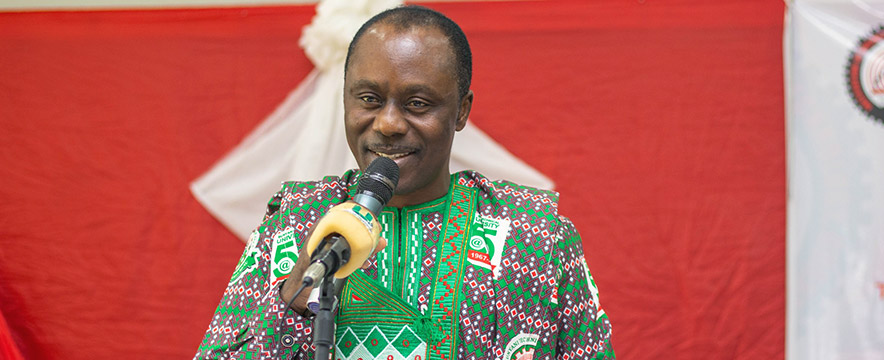 VC encourages Jaman Youth to Venture into TVET
Vice-Chancellor of Sunyani Technical University, Ing. Prof. Kwadwo Adinkrah-Appiah has encouraged the youth to cultivate keen interest in lifelong learning, particularly in the field of Technical and Vocational Education and Training (TVET).
In his view, by acquiring relevant skills, they can establish their own businesses and provide employment opportunities for other young individuals.
"Do not look forward only to the grammar type of education to eventually seek for non-existing white-color jobs. However, TVET, Engineering and Technology Education will help you gain employment faster and be successful quite easily," he said.
Ing. Prof. Adinkrah-Appiah was speaking on the topic: "Building Self-Esteem: learning to put your best self forward" at the Jaman Youth Seminar held last Friday at the Drobo Senior High School at Drobo in the Jaman South district of the Bono region.
The seminar was organized by the Jaman Youth Foundation as part of its annual conference, which attracted about 1000 participants, mainly natives of Jaman North and South.
"I will continue to urge you all to remove your political lenses and discuss issues that will benefit your personal and community growth. The present and future of our communities largely depend on our activism and conduct as Youth of Jaman.
"Building our self-esteem and confidence would build better communities, and there is no doubt that our aspirations and personal developments will influence the success and progress of our places of living and our country Ghana at large", he said.
He emphasized that politics has become an unavoidable aspect of our communities, but cautioned that without strong self-confidence and moral values, the youth can easily fall victim to the manipulations of unscrupulous political figures who seek to divide rather than unite communities. He urged political parties to instill good moral values in their followers, fostering positive self-esteem to prevent chaos and promote a harmonious society.
Ing. Prof. Adinkrah-Appiah described self-esteem as one's perception of oneself and emphasized its significance in shaping actions and aspirations.
He urged the youth to focus on continuous education, particularly in Technical and Vocational Education and Training (TVET), to acquire relevant skills for entrepreneurship and job creation.
He further stressed the importance of supporting needy students through education for a sustainable future.
Building self-esteem, he added, leads to understanding, love, and peace within communities. The Vice-Chancellor encouraged individuals to set realistic goals, seek mentorship, and avoid divisive attitudes, fostering a united and prosperous community.
From PR Office
---