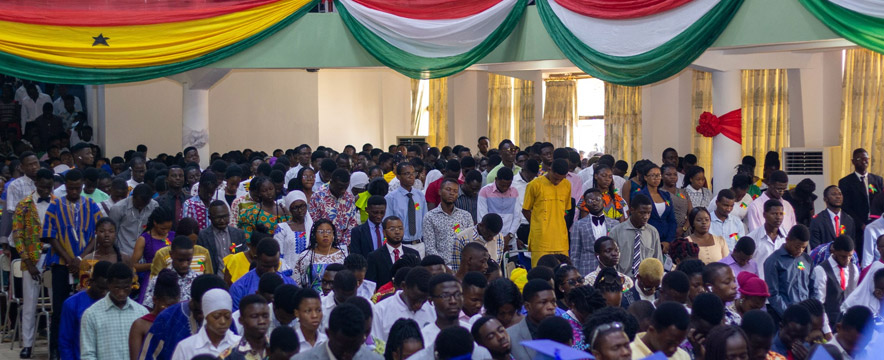 Sunyani Technical University welcomes 3,014 freshers
The Sunyani Technical University says it is determined to offer sponsorships to students who come up with innovations and inventions that would contribute to the socio-economic transformation of the country.
Ing. Prof. Kwadwo Adinkrah-Appiah, the Vice-Chancellor of Sunyani Technical University, who announced this said the University will offer these sponsorships through its Research and Innovation Fund.
Speaking at the 27th matriculation of the University, the Vice-Chancellor said the Students' Support Fund, set up by the institution, is also there to support needy but brilliant students who encounter financial challenges during their course of study.
Statistics
This year, the university issued admission letters to a total of 4,934 prospective students. Out of this number, a total of 3,014 applicants, representing 61.1%, responded positively and were admitted into the University for the 2022/2023 academic year.
Out of the total enrolment, 2,181, representing 72.4%, are Males, whilst 833, representing 27.6%, are Females. The University also admitted two foreign students this year. In terms of disciplines, 2,503, representing 83%, enrolled in Science, Technology, Engineering and TVET programmes as against 511, which constitutes 17%, in the Humanities.
The total enrolment of 3,014 fresh students for this academic year shows an increase of 30.2% over last year's figure of 2,104. The appreciable rise in student enrolment at the University this year can be attributed to a number of measures put in place by management to increase intake, including improved visibility of the University resulting from the 55th Anniversary Celebration and the introduction of new academic programmes.
This, according to the Vice-Chancellor, calls for more efforts to continuously improve and sustain visibility of the University through advertisement of its new Engineering, Science and TVET academic programmes to attract more prospective students, especially foreign students into the University.
"When patronage of such skill-oriented industry-driven programmes is improved, it would help produce more skilled and entrepreneurially inclined graduates, who can readily find jobs or set up their own businesses to help accelerate the socio-economic development of Ghana", he emphasised.
In his view, this will also reduce the proclivity of other institutions having the opportunity to produce many graduates in the chocked sectors of the national economy in order not to worsen the existing high spate of youth unemployment in the country.
Security
The Vice-Chancellor assured the freshers that management has put in place measures to protect life and property on the University campus.
"These include the setting up of a Police Post on the University Campus to augment the existing security architecture of the University. The lighting system on campus has been enormously improved, whilst security patrols and visibility have been enhanced.
He, however, urged the students not to be careless about their personal security, saying "do not walk alone on campus during the night as that might not help your personal security."
Discipline
Ing. Prof. Adinkrah-Appiah reminded the students of the need to exhibit high sense of purpose and diligence in pursuing their academic career to enable them to achieve the required skillsets and competences that will make them successful in the world of work.
"You are the future leaders of this country, as some of you here are going to become Lecturers, Engineers, Businessmen, Parliamentarians and even President of this country one day. You should, therefore, be serious with your studies so that you can climb the academic ladder systematically and successfully in order to achieve your future goals and ambitions", he said.
"Notwithstanding, the university requires you, as students, to be disciplined and law-abiding. You are here to be trained not only in academic work, but also to help you form a decent character that will make you responsible citizens in future to enable you contribute positively to Ghana's development.
He said anti-social practices such as violation of laid down rules and regulations; including examination malpractice, alcoholism, betting and sexual promiscuity would not be tolerated by Management, with Culprits of such acts being made to face the full rigors of the University's disciplinary procedures.
End
---