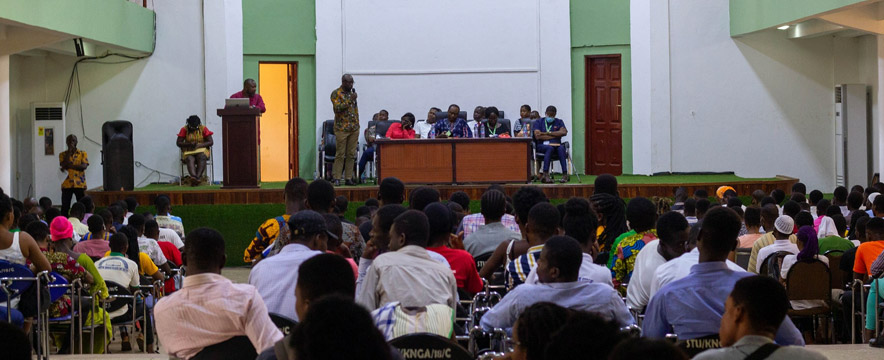 STU offers 20% Discount for Female Engineering Students
The Vice-Chancellor of Sunyani Technical University, Ing. Prof. Kwadwo Adinkrah-Appiah, has announced that the university will be offering 20% discount on school fees of all female engineering students, beginning from the next academic year.
Speaking at a Students-Staff durbar held at the University's main auditorium, Ing. Prof. Adinkrah-Appiah, explained that the move formed part of an affirmative action adopted by management to encourage more females to pursue various engineering courses.
He said because STU is a technical university, it usually struggles to get females to study engineering programmes and so the university has taken this affirmative action to give special consideration to prospective female engineering students, adding that this is expected to attract more females into the engineering field.
Touching on other issues, Ing. Prof. Adinkrah-Appiah announced plans by management to instal closed-circuit television (cctv) cameras at examination halls and other vantage points to protect the integrity on the exams as well as enhance security on campus.
He said a Police Post has been opened on campus to assist the university's internal security in ensuring law and order among members of the university community and entreated students to conduct themselves in a way that would not invite any trouble for them.
On industrial attachment, the Vice-Chancellor told the students that beside the various ultra-modern workshops and laboratories on campus, the university has signed MoUs with a number of public and private institutions to enable the students to undertake practical training as part of their studies.
Ing. Prof. Adinkrah-Appiah also announced plans to tar the main road linking the main campus to the Water-loo end of the university, saying construction works would soon begin.
Responding to a request for a shuttle bus for students at the GETFund hostel and Water-loo to campus and vice versa, the Vice-Chancellor said management will discuss it further and revert to the students.
He also said there were plans to procure additional tables and chairs to augment the existing number in the various lecture halls but was quit to caution the students to desist from leaving the chairs outside lecture halls after using them.
End
---